Recent News
22 Apr 2016 Malvern Star and Speedwell pad collection
Thanks to Ben Leech for some additional pads for the collection. I had previously sold a yellow CrMo set thinking I didn't need to have a spare set sitting around the house. But regrets .. and now I own a set again.
14 Apr 2016 Bike of the Week Winner!
Thanks to everyone who voted for my SuperMax in the Bike of the Week poll on the Facebook site. I was really surprised to pip Tony's Supergoose as it is a magnificently restored bike.
30 Mar 2016 Dia Compe Pack Rack
I found these on eBay and thought they looked cool - but what would you do with a pack rack that is this small? Its a great idea but as its all supported by a single centre bolt, your load would want to be both small and light.
9 Jan 2016 Forever Bicycles, Ai WeiWei
'Forever' is a popular brand of mass-produced bicycles manufactured in China since the 1940s and desired by Ai as a child. Composed from almost 1500 bicycles, this installation suggests both the individual and the multitude, with the collective energy of social progress signalled in the assemblage and perspectival rush of multiple forms. Forever Bicycles disconnects the bicycles from their everyday function – reconfiguring them as an immense labyrinth-like network. The multi-tiered installation also achieves an architectural presence, much like a traditional arch or gateway to the exhibition..
7 Nov 2015 Silverton Aero
The Knox Thunderdome Show & Shine was on today and I picked this original Silverton from Pete Healy who in turn saw it at a local bike store near him. Everything appears to be original including the tyres. I plan to leave this one as is but it is tempting to restore it back to original.
11 Sep 2015 Bikes for Tykes
Yesterday I went to a corporate event run by IBM where we built bikes for charity. As it turned out, the lucky recipients of the 26 bikes we built were kids from camp quality who arrived at the end of it all. These kids were sooooooo excited and proceeded to ride their bikes around inside - crashing through the adults standing around and into each other. Great event!
02 Sep 2015 Plum Geek's Ringo
I saw this little robot on KickStarter in February this year and became a backer. It has taken just over six months to get this project to delivery but the results look great. I got mine today and can't wait to play with it!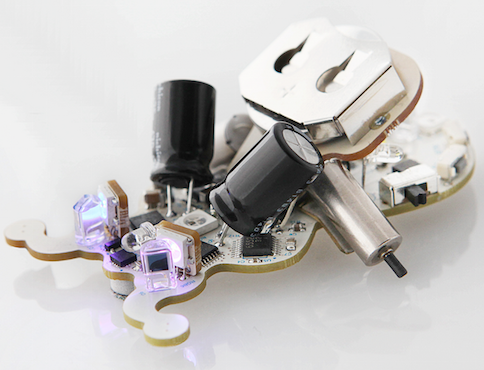 30 Aug 2015 Repco '88 Freestyle Wheels
A few months ago I picked up an '88 Freestyle from Mick Bellette. Today, I finished building the 48H wheels using NOS Weinmann rims, restored alloy hubs and stainless steel hubs.
28 Aug 2015 Woody Itson turns 52 Big deal I hear you say? Just look at the pic he posted on Facebook - a 'reverse gut lever'! He's still the master!
22 Jun 2015 Melburn Custom Bike Show Although dominated by restored, high-end road bikes my little SuperMax drew a number of comments from other presenters. I guess they get a bit blasé over the thousands spent on Italian parts and to see a home-grown BMX was interesting for them ..
05 Jul 2015 Scot Breithaupt, a founder of bicycle motocross and a National BMX Hall of Fame member, was found dead Saturday, July 5, 2015, in a vacant lot in Indio. The National BMX Hall of Fame described Breithaupt as "The Godfather of BMX."
21 Dec 2015 Finally got my hands on a 1980 Repco catalogue - thanks to Mick Bellette. This catalogue is unique in that it shows both a Giant and a Repco branded bike. The Giant is a looptail and the Repco is what would later be known as a Team Hotfoot.